Schedule of Art Instruction at Spectrum Gallery | Schedule of Art Instruction at Arts Center Killingworth
Embroidery: A Skill with Heart Workshop
Description: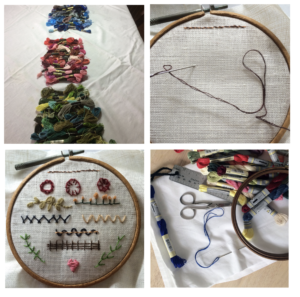 Date: Sunday, November 5
Time: 1-4pm
Fee: $72 with $21 material fee paid to the instructor Members save $7
Learn embroidery in one session. Perfect activity as the days get shorter and the temperatures get cooler. This creative skill will allow you to make personalized gifts, beautiful family heirlooms and the inspiration to embellish your clothes. Each participant receives a complete set of embroidery tools and floss, stitch demonstrations and first-hand stitching lessons. Appropriate for beginners or as a refresher course of the basics. Each attendee will learn up to 10 different stitches. After a little practice getting comfortable with the tools, create a 5" round sampler to take home.
Event Registration and Ticketing Powered by Event Espresso