Felting Ornaments for Santa's Workshop
Description: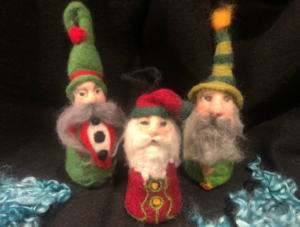 This workshop will be a "needle felting" class for all levels. Students will be making a 3-d felted ornament, character or animal using a variety of needle felting methods, all of which are very gratifying and can be combined to make all kinds of other projects that are not just for the "Holidays." For this workshop students will be using soft, colorful merino wool roving, special barbed needles, yarn and embellishments. These materials will be supplied by the teacher. To begin we will do some simple brainstorming and shape the wool. We will discuss the best forms and build a foundation, choose a color palette and then learn the "ins and outs" of needle felting. The "fashion design" step is a truly exciting part of forming the wool as your character or animal becomes a reality.
The teacher will demonstrate different concepts so students will have lots of creative, exciting options. There is a $10 material fee for each student. Please bring a small sketch book or note pad.
Date: Saturday Dec. 14th
Time: 1-4pm
Cost:  $50 plus $10 material fee paid directly to the instructor; Members save $5
Membership starts at $45 per year and offers 10% discount on art instruction* as well as 10% off select Store items at the Gallery. *Does not apply to summer camps. Click here to become a Member
Location:  Spectrum Art Gallery, 61 Main Street, Centerbrook, CT
Event Registration and Ticketing Powered by Event Espresso