Botanical Print a Silk Scarf Workshop
Description: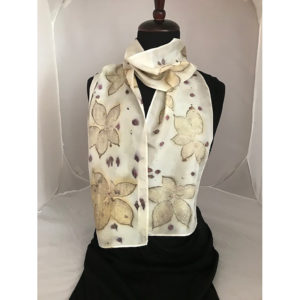 Participants are introduced to the sustainable  process of printing leaves onto fabric also referred to as contact or bundling printing.  Images are extracted from plants and transferred to fabric through a steaming process. As the chemicals interact with different types of textiles, the images may respond differently as they join with the fabric. This workshop will help participants reconstruct this process on their own. Each student will go home with a silk scarf or a wall hanging as well as a booklet of instructions and resources.
Date: Sunday, June 23
Time: 12:30-5:30pm
Cost: $80 + $10 material fee paid to the instructor; Members save $8
Membership starts at $45 per year and offers 10% discount on art instruction* as well as 10% off select Store items at the Gallery. *Does not apply to summer camps. Click here to become a Member
Teaching Artist: Martha Simpson.
Event Registration and Ticketing Powered by Event Espresso