Introduction to Polymer Clay Classes for Ages 7-9
Description: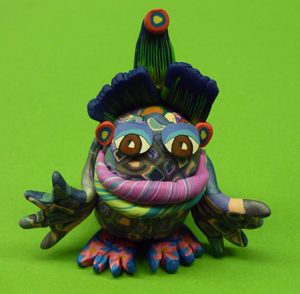 Young sculptors learn to roll, flatten, wrap and then slice this colorful oven baked clay to reveal amazing designs like checker boards, flowers and stripes. Then children take their slices and cover anything they choose from our collection of objects including frames, jars, boxes, utensils, switch plates and pens, or they can make a creature like a frog or owl! They'll be amazed what can do with this flexible clay medium!
Dates: Thursdays, 10/11, 10/18, 10/25, 11/1, 11/8
Time: 3:30-4:30pm
Ages: 7-9
Cost: $100 includes all materials for 5 classes; Members save $5
Membership starts at $45 per year and offers 10% discount on art instruction* as well as 10% off select Store items at the Gallery. *Does not apply to summer camps. Click here to become a Member
Teacher, Shauna Lange, is a frequent writer and contributor to industry and academic journals focused on the intersections of art & theology. This work looks for pathways to merge art and sacred spaces, sacred places, and creative placemaking. Her writings and artwork have recently appeared in Christians in the Visual Arts; Faith and Form: The Interfaith Forum on Religion, Art, and Architecture; SEEN; Edge of Faith Magazine; and Boca Beacon.  She has been featured in Roughhewn People; World Net Daily; Cloth Paper Scissors; and Somerset Studio Gallery.  She is also a regular contributor to the American Institute of Architects Knowledge Community #InterfaithDesign and the International Architecture, Culture, and Spirituality Forum.
Event Registration and Ticketing Powered by Event Espresso