Carefree Maple Leaf Gourd Bowl Workshop
Description: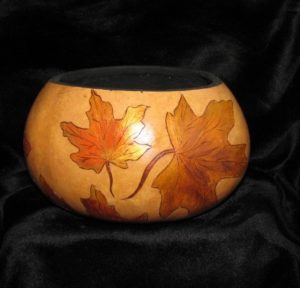 Participants use a cleaned gourd bowl 5"-7" inches in diameter. Learn to use a heat controlled wood burner to stencil maple leaves onto the bowl with metallic ink dyes.  Participants gain an understanding of how to blend the colors together to create the beautiful shimmering look of the leaves.  Although the bowl will be painted black inside for this workshop, the instructor will also demonstrate process of decoupage for the inside of the bowl in case anyone would like to do it at home.  This bowl can be used for dried flowers, candy or just a beautiful center piece for the fall. No tools are required from the students, instructor supplies all equipment and dyes necessary to complete the project.
Teaching artist, Ceil Rossi, lived in Arizona for over 26 and it was during this time she discovered gourds, the magical art form of the southwest.
Her earthy artwork is grown from the ground and it's these hard shelled vessels that have perpetuated her passion for art. A unique medium for any New England artist, nature's pottery has helped Ceil Rossi of Agawam nurture her creativity.
The gourd has a smooth buttery skin with varying shapes and it is like working on wood and canvas at the same time. But, instead of being a flat canvas, the gourd is a 3-dimensional art form that can be carved, wood-burned, and painted. The paints that Ceil uses are transparent so you can see the mottled skin of the gourd. "You don't want to cover up the skin of the gourd because it's part of the beauty of that gourd," says Ceil.
She learned from the best, taking classes from well-known gourd artists in the Southwest. Ceil became a respected member of the gourd artist community. She then opened her own gallery, The Carefree Gourd Gallery and teaching studio in the quaint town of Carefree, Arizona.
Ceil's work can be seen in several gallery's around Massachusetts and Connecticut and she has participated and won honors in several Fine Art shows. She also teaches in Avon, West Hartford and Windsor, Ct. and at her studio in Agawam, Ma. She is a member of many art organizations in Western Ma. and Ct. She also lectures on the history, art and culture of the gourd, From Field to Fine Art.
Date:  Sunday, October 28
Time: Noon-4:30pm
Cost:  $60 with a material fee of $15.00 paid to the instructor; Members save $6
Membership starts at $45 per year and offers 10% discount on art instruction* as well as 10% off select Store items at the Gallery. *Does not apply to summer camps. Click here to become a Member
Event Registration and Ticketing Powered by Event Espresso