Creating a Collage with a Theme
Description: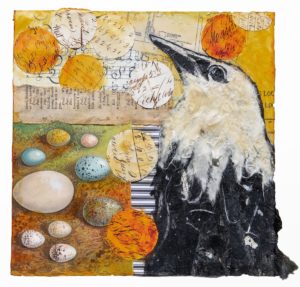 This is a class for those who have always been curious about collage and mixed media or for those who have experience but would like to work in a group situation exploring new materials and ideas.  Everyone in this class after arriving at a primary collage image and accompanying story will sort through illustrated calendars, art books, magazines and sheet music, etc. (their own or use the instructors) to find supporting visual images for their themed collage.  Balance and composition of the collage is discussed and explored as participants also find smaller imagery that will compliment the larger subject and enhance the collage story.  The use of text and script is also introduced including how to trace and cut it out.  Layering and gluing the collage imagery and text to either a canvas panel, cradle board or wood panel is demonstrated with the final embellishments from feathers to sequins added as the final collage layer.  Material list available for those who want to purchase and use their own materials.
Dates:  Wednesdays 4/1; 4/8; 4/15; 4/22; 4/29. Makeup 5/6.
Time: 12:30-3:00pm
Cost:  $200 per person; Members save $20. $4 material fee per class for use of the instructor's materials.
Membership starts at $45 per year and offers 10% discount on art instruction* as well as 10% off select Store items at the Gallery. *Does not apply to summer camps. Click here to become a Member
Teaching artist Regina Thomas' collage and mixed media art is a mélange of visual stimuli, colors, and shapes involving different genres from the representational to the abstract. These multi-layered works portray her view of the world, never realistic, injecting her own narratives, metaphors, and icons. Regina works instinctually, and her desire is to stimulate and intrigue the viewer, make a connection, bringing their own experiences to the work.
Regina has lived and traveled throughout Asia and Europe. While in London, she attended Richmond University concentrating on the Art Disciplines as well as Studio classes. Upon her return to the states she continued refining her art through classes and workshops at RISD (Rhode Island School of Design), The New Art Center in Newton – MA, South Shore Art Center – MA, West Hartford Art League, Creative Arts Workshop/New Haven, CT, Yale University and The British Art Museum.
Regina began showing her work in November 2002 and has been included in many juried exhibitions in New England. Regina shows in private galleries and is an Elected Artist with New Haven Paint & Clay and Gallery Artist with South Shore Art Center in Cohasset, Massachusetts. She has private collectors across the U.S., Europe, South America and Asia. Her most recent shows have been at The John Slade Ely House in New Haven, and The Spectrum Gallery in Centerbrook where she also holds classes in collage and mixed media art.
Event Registration and Ticketing Powered by Event Espresso