Schedule of Art Instruction at Spectrum Gallery | Schedule of Art Instruction at Arts Center Killingworth
Valentine's Day Origami Box Workshop
Description: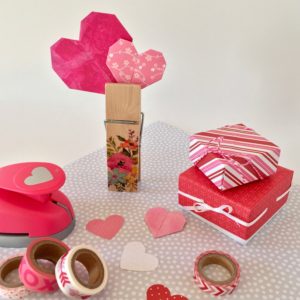 Date: Sunday, February 11
Time:  1:30-4pm
Cost per Date:  $45 plus $10 material fee paid directly to instructor
This beginner level workshop starts with a brief history of paper folding and watching three short videos featuring contemporary origami artists in action. You'll practice and master the basic folds needed to create origami boxes beginning with heart shaped bookmarks (that can also be used to decorate your boxes) and making a practice box from plain copy paper. Then create four colorful origami boxes, each a different size, from a variety of papers including many with Valentine's Day themed designs. Choose from a selection of ribbon and cording to decorate and finish the boxes. All tools and materials will be supplied. These boxes can be used as a unique way to present special small gifts. Perfect for a hostess gift, a little thank you for a friend, desktop storage or for sharing sweet treats.
Teaching artist Kathy Johnson loves all things paper and works in the mediums of collage, mixed media and eco printing. She likes to use repurposed papers in her work, everything from coffee filters and junk mail to candy wrappers. Many of her works also contain natural materials such as leaf skeletons, ferns and other items gathered from her yard and garden. She has been making origami boxes for many years for all kinds of occasions including 125 boxes that were used as favours for her sister-in-law's wedding.
Event Registration and Ticketing Powered by Event Espresso