Schedule of Art Instruction at Spectrum Gallery | Schedule of Art Instruction at Arts Center Killingworth
3D Felted Animal/Ornament Workshop
Description: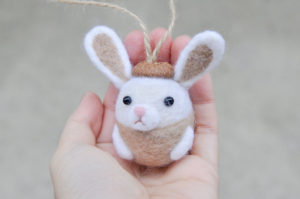 Date: Sunday, Dec. 3
Time: 1:30-4:30
Cost: $50 plus $20 material fee paid to the instructor
In this workshop participants use the softest of materials, wool roving, to manipulate a special barbed needle learning to transform the wool into a small free-standing creature, real or imagined or holiday ornament..  All materials are supplied by the instructor.
Teaching Artist, Diane Cadrain, is recently retired from work as a lawyer and freelance writer specializing in employment law topics, but she has been sewing all her life, starting with hand embroidery as taught by her grandmother at home in Hamden, CT. The Hamden public school system taught Diane machine sewing, and with that skill, she proceeded to construct her own clothes and costumes. As a law student at Georgetown University Law Center, she learned to knit, and later, in her early 30s, as a new mother, Diane began a journey of experimentation in the fiber arts, and that journey continues.she uses fiber to create images that combine fragility with strength and the evanescent with the eternal. Her work includes hand-painted fabric, felted fibers, machine piecing and quilting, hand embroidery, and knitted embellishments, and beading. Diane exhibits her work at Spectrum Gallery.
Event Registration and Ticketing Powered by Event Espresso