Schedule of Art Instruction at Spectrum Gallery | Schedule of Art Instruction at Arts Center Killingworth
Sculpture in Motion Mobile Workshop
Description: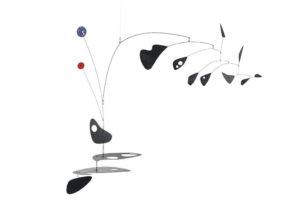 Date: Sunday, June 11
Time: 1-4pm
$55, Members save $5.50. Material fee paid to instructor $15
Enjoy thinking and working in 3D as we discover the work of artist Alexander Calder, who worked in CT for over 40 years! Calder became famous for inventing the mobile, a type of sculpture that moves. In this workshop we will explore various techniques for bending and manipulating wire. We will build a simplified mobile as we learn and discuss issues of balance and how to find equilibrium. You are asked to provide a pair of scissors, pliers, sketchbook, and colored markers and any other drawing materials of your choice.
Teaching artist Melanie Carr is a Connecticut based artist who received her MFA from the College of Art and Design at Lesley University in 2011. Carr began her studies in visual art after serving in the United States Navy as an Operations Specialist onboard the USS Willamette (AO-180) in Pearl Harbor, HI. Carr spent 10 years at the New Britain Museum of American Art – her most recent role as Curator of New Media. Carr is now Adjunct Professor at Central Connecticut State University where she teaches drawing. Carr has also been a visiting artist at the University of Connecticut, Waterbury campus. Other teaching venues include Pathways Senderos, New Britain, CT, Green Street Arts Center, Middletown, CT, and the New Britain Museum of American Art, New Britain, CT. Carr's work has been featured in solo exhibitions at Soapbox Gallery, NY, Stockman Gallery, New Britain, CT, City Arts on Pearl, Hartford, CT, Westport Arts Center, Westport, CT, and Pegasus Gallery, Middletown, CT. In addition, Carr's work was included in numerous exhibits nationally and abroad that include The Point, United Kingdom, Gibney Dance, NYC, Gallery Aferro, New Jersey, The Delaware Center for the Cotemporary Arts in Wilmington, Mattatuck Museum, CT, Hans Weiss Newspace Gallery, CT, and Herter Gallery, MA.
Carr has work in the collections at the New Britain Museum of American Art, The Loomis Chaffee School, and the Boston Public Library, as well as many private collections.
Event Registration and Ticketing Powered by Event Espresso