Schedule of Art Instruction at Spectrum Gallery | Schedule of Art Instruction at Arts Center Killingworth
Sculpture in Motion Mobile Workshop
Description: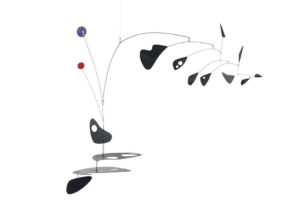 Date: Sunday, June 11
Time: 1-4pm
$55, Members save $5.50. Material fee paid to instructor $15
Enjoy thinking and working in 3D as we discover the work of artist Alexander Calder, who worked in CT for over 40 years! Calder became famous for inventing the mobile, a type of sculpture that moves. In this workshop we will explore various techniques for bending and manipulating wire. We will build a simplified mobile as we learn and discuss issues of balance and how to find equilibrium. You are asked to provide a pair of scissors, pliers, sketchbook, and colored markers and any other drawing materials of your choice.
Event Registration and Ticketing Powered by Event Espresso