Schedule of Art Instruction at Spectrum Gallery | Schedule of Art Instruction at Arts Center Killingworth
After School Sculpting & Mixed Media Classes for Kids
Description: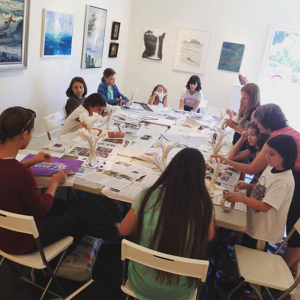 Sculpting and Mixed Media After School Art Classes at Spectrum Gallery
Ages 7-9

Winter Session II: Wednesdays March 29th; April 5th, 19th, 26th; May 3. Makeup May 10th
3:30-4:30pm
$115 for 5 Classes; Members save $12
Adding and subtracting applies to more than just math! See how easy it is to create amazing sculptures with clay and other popular materials. Learn step-by- step how to hand build a variety of unique, sculptural artworks. New projects! Materials included.
Painter, jewelry designer and teaching artist Gloria Nilsson integrates the art of painting on silk with her love of jewelry design to create unique jewelry collections & accessories. The roots of her strong design sense are seeded in her degree in Graphic Design from Pratt Institute, New York, N.Y. She currently enjoys designing and working with wire to create wire wrapped & wire woven pieces sculpting with polymer clay, and incorporating semi-precious stones and crystals in her jewelry designs. At the Arts Center Killingworth Gloria provides instruction in accessory design (scarf/jewelry), calligraphy, drawing, fashion illustration, polymer clay, and children's art classes. Gloria has been honored with numerous awards including Honorable mention Illustrators Portfolio; Tassy Walden Awards New Voices in Children's Literature 2003, Madison Art Society Annual Juried Show Award 2008-2011, Second Place; Shearer Award; Guilford Art League Annual Juried Show 2009, Artmajeur Silver Award; Artmajeur International 2008-2012, Honorable Mention; Manhattan Arts International Healing Power of Art "Positive Art That Lifts The Spirit" 2012, Clinton Art Society 62nd & 64th Annual Juried Summer Exhibition Awards 2011 & 2013. Recently, Nilsson was selected to design and illustrate Chapter 11 of The Great CT Caper, a serialized storybook for young people. Her silk painting, Chapter 11: SpellCheck, was published in book form and on the CT Humanities/CT Center for the Book website.
Event Registration and Ticketing Powered by Event Espresso