Schedule of Art Instruction at Spectrum Gallery | Schedule of Art Instruction at Arts Center Killingworth
Connecting the Dots Dance Performance
Description: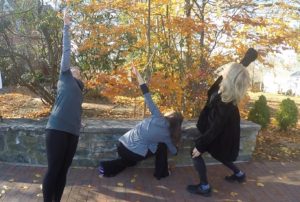 CONNECTING THE DOTS
Saturday, February 18
Two FREE Dance Performances: 2pm + 4pm
Walkins Welcome!
Experience a dance performance choreographed to enrich the current exhibit at Spectrum Art Gallery. Local modern dancers, Linalynn Schmelzer of River Valley Dance Project and Chloe Carlson of Gusto Dance Project, are joining forces to choreograph a site-specific work for Follow the Line.  "We are very excited to be performing in a gallery venue", Mrs. Schmelzer explained, "Dance and art are a perfect combination, both disciplines accomplish full expression using lines, shape and form".  Choreographers, Carlson and Schmelzer have a dynamic, engaging and poetic dance prepared called "Connecting the Dots." "Connecting the Dots" has three sections exploring the use of lines, movement and the connection from different perspectives. "The theme of connection--whether dots in lines or choreographers and dancers in a dance--those 'in-between' places are full of mystery and magic" Mrs. Carlson stated.  All ages are welcome to this engaging event at Spectrum Gallery!
Event Registration and Ticketing Powered by Event Espresso