Mailscape Collage Workshop
Description: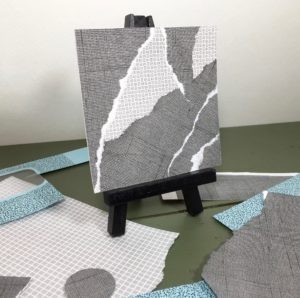 Date: Sunday, March 11
Time: 1-4pm
Cost: $50 plus $10 material fee paid to the instructor. Members save $5.
You'll never look at your mail in the same way again! In this workshop explore pattern, shape, color and composition. From junk mail envelopes tear, cut and use paper punches to create 3 beautiful landscapes, cityscapes and/or abstract works of art. Deconstruct the envelopes to gather stamps, rounded and pointed flaps, clear glassine window panels and best of all, the many varied patterns found on the inside of most security envelopes. You'll work on two different small square formats as well as one in standard postcard size. No art experience necessary. All materials and tools will be supplied but feel free to collect your own junk mail envelopes and bring to the workshop. You may be lucky and find something besides the usual blue and black inks that are most common.
Teaching artist Kathy Johnson loves all things paper and works in the mediums of collage, mixed media and eco printing. She likes to find and repurpose papers in her art, using everything from coffee filters and junk mail to candy wrappers. She has been collecting security envelope patterns for several years and they can be seen in many of her collage works.
Event Registration and Ticketing Powered by Event Espresso