Schedule of Art Instruction at Spectrum Gallery | Schedule of Art Instruction at Arts Center Killingworth
Drawing Two Classes
Description: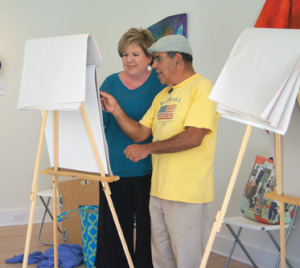 Saturdays: 11/4, 11/11, 11/18; 12/2, 12/9.
Makeup: 12/16
12:30-3pm
$140 for 5 Classes; Members save $14
Take your drawing to the next level by combining shapes and forms into 2 and 3D figures. Learn to setup a still life. Focus on composition, perspective, background/foreground objects, shadow, light and tones of gray, black and white. Work with pastels, colored pencils, chalk and charcoal. Returning students are given more advanced assignments for their level. Material list available.
Teaching Artist Edward Rosado studied commercial art and graphic design at the School of Visual Arts in Manhattan. He worked at Hartfield & Zody's Retail Dept. Stores and was hired as Art Director at Garwood Mills in Atlantic City, New Jersey. Moving to New Britain, CT he was Art Director at The D&L Dept. Stores of New Britain. Mr. Rosado has been a teaching artist for the Arts Center Killingworth and Spectrum Art Gallery for the past 3 years.
Event Registration and Ticketing Powered by Event Espresso