Schedule of Art Instruction at Spectrum Gallery | Schedule of Art Instruction at Arts Center Killingworth
Mother's Day Collage Card Workshop
Description: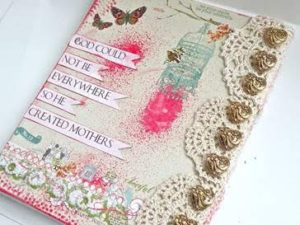 Date: Sunday, May 7
Time: 1:30-3:30
Cost: $40 plus $10 material fee paid to the instructor, Members save $4
How to describe a Mother's Love? What better way than to document how you feel about her........whether she is flowery, funky, frilly, funny, a fashionista, or just plain fantastic! You will have a great time assembling your own, very personal art card creation, just for her! Learn how to design a collage from start to finish. Choose from a variety of papers, stamps, found objects and type applications. Please bring any personal embellishments, photos, and/or photo copies of your fabulous mom.
Teaching Artist Gloria Nilsson enjoys experimenting and keeping her options open when it comes to mediums in painting. Working primarily in oils, she is currently exploring the art of painting on silk. Nilsson also designs and creates a unique line of fine art clay jewelry. At the Arts Center Killingworth she provides instruction in accessory design (scarf/jewelry), calligraphy, drawing, fashion illustration, polymer clay, and children's art classes. Gloria has been honored with numerous awards including Honorable mention Illustrators Portfolio; Tassy Walden Awards New Voices in Children's Literature 2003, Madison Art Society Annual Juried Show Award 2008-2011, Second Place; Clinton Art Society 62 Annual Juried Exhibition 2011, Shearer Award; Guilford Art League Annual Juried Show 2009, Artmajeur Silver Award; Artmajeur International 2008-2012, Honorable Mention; Manhattan Arts International Healing Power of Art "Positive Art That Lifts The Spirit" 2012, Davis Swimming Pools Inc. Prize; Clinton Art Society 64th Annual Juried Summer Exhibition 2013.
Event Registration and Ticketing Powered by Event Espresso