Schedule of Art Instruction at Spectrum Gallery | Schedule of Art Instruction at Arts Center Killingworth
Bright Paper Winter Blossoms Workshop
Description: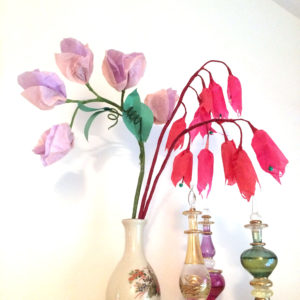 Date: Sunday, October 22
Time: 2:00-4:30pm
Fee: NOW only $45! (Regularly $62 per person) with a $15 material fee paid directly to the instructor Members save $4
With winter approaching, keep the freshness of summer blooms with paper flowers in bright colors. Make a coral bell paper flower bouquet of 2-3 stems and several leaf stems. Each participant chooses their preferred colors, hands on demonstrations, patterns and printed instructions. Create an everlasting bouquet to take home.
Teaching artist, Amanda Merritt has always been an artist of some sort. Born with the influence of incredibly talented & creative parents, attending design schools, folk-crafting and observing nature up-close on her farm, with a flip-side living and working in the New York City fashion industry, detaching to solo-travel the world teaching brand and design in six of the seven continents. Now firmly planted on the ground working in the studio smack-in-the-middle of her parent's beautiful gardens on the shoreline. She has attended classes at Killingworth Arts Center, Guilford Art Center, Lyme Academy and Connecticut Natural Science Illustration at Yale Peabody. A member of Lyme Art Association and a docent at the American Impressionism museum at the Florence Griswold homestead, she is very active in the arts from a variety of perspectives. Serving as an artist thoughtfully influenced by a lifetime of interesting experiences, with a commitment to learning, sharing and teaching from a wealth of observations expressed through her art.
Event Registration and Ticketing Powered by Event Espresso